By: Metal Culverts, Inc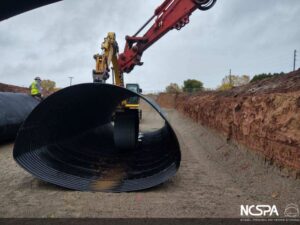 Steve Huelsmann, a PE with Design Nine Engineering in St. Louis, MO, and his team were tasked with designing a $3.5 million tank car railroad spur at the Hydrite Chemical facility in Oshkosh, WI.  Hydrite Chemical was experiencing rail car storage issues and needed to expand its on-site rail storage capacity.  The expansion included a three line railroad spur designed to store full and empty rail cars. This site had several unique and challenging requirements the design team would have to work with.  As a railroad spur, the structures would have to carry extremely large loads and be able to withstand the weight of multiple loaded rail cars.  Also, the stream the rail spur crossed, was a regulated small stream and all project designs had to be approved by the Wisconsin Department of Natural Resources.   Keeping in mind costs, DNR approval, railroad specifications, and product service life, the team had to find the right product for the project.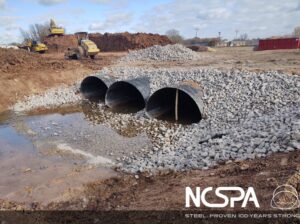 Design Nine explored several options for the culvert construction.  One of the options was a 15-foot wide concrete box culvert.  Estimated material costs alone on this option were $250,000.  This option also had significantly higher installation costs due to the need for specialized heavy equipment to set the structure with increased time and labor. Additionally, with the design of the concrete box, there was concern of limited cover and the structure's ability to withstand loads from rail cars.
Corrugated steel pipe was another option the design team considered and ultimately selected.  To meet the project's hydraulic and load requirements, a triple run of 112" x 75" (96" ERS) arched 8 gauge 3×1 riveted CMP was considered.  The triple run consisted of three 158' long pipes.  Several coating options were discussed, but polymer coated cmp's 100 year service life and availability in 8 gauge material was the only option that could meet the project's service life and strength requirements.  With reduced installation time, utilizing construction equipment already on site and lower material costs corrugated metal pipe clearly proved to be the best option.  Material costs alone were nearly 45% lower than the concrete box option!
Dustin Brehm, a Site Foreman with Anderzack-Pitzen Construction of Metamora, OH, noted the crew was pleased with the ease and speed of setting the 474 feet of pipe.  Brehm stated, "We were able to use the earthmoving equipment we already had onsite without having to bring in cranes.  We set 18 pieces of pipe in one day and back filled the next day. The metal pipe was easy to work with and with the lifting lugs we didn't have to hassle with chains or straps."
Metal Culverts, Inc was happy to work with all parties involved and was proud to produce a quality product!