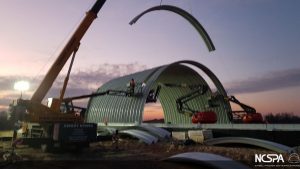 Located near Stalowa Wola and Nisko in Poland, this bridge was constructed to safely carry the highway traffic over the railway below. As an alternative to the standard concrete solution, a deep corrugated plate structure measuring 35'x24.5'x47′ was selected. The structure was also based on reinforced in-situ concrete walls.
The plates were zinc coated and painted in the factory. On both sides of the structure there is an epoxy + polyurethane paint of the 200 μm thickness.  Because the bridge sits at a skewed angle, it was necessary to add an additional steel mesh on both ends to reduce lateral pressure of the backfill material. The inlets and outlets of the arches were finished by using retaining walls situated on in-situ concrete collar .
At the end of January 2020, the first ring of the deep corrugated bridge structure was assembled.  The assembly was divided into stages, so as to minimize the downtime of the railway below.   Assembly crews prefabricated the rings of the structure near the railway lane and later placed the elements over the rail line on concrete walls. The whole process took about three weeks ( the assembly over the railway line only 5 days).