One of the benefits of corrugated steel pipe is that is can be easily and economically fabricated into an assortment of fittings. Corrugated steel pipe fittings allow for multitudes of design options and flexible system configurations.
Structural plate fittings are shop cut from curved corrugated plates and welded together. These structures are usually assembled and bolted in the shop in a trial fit to assure that all parts mate properly. The parts are then clearly marked for field assembly.
The principal purpose of end finish (or treatment) on corrugated steel pipe culverts or spillways is hydraulic efficiency – to prevent scour at the inlet, undermining at the outlet and to increase capacity. Other purposes may be to retain the fill slope, discourage burrowing rodents or improve safety.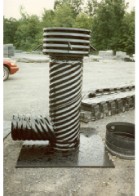 Types of steel end treatments include:
Flared and prefabricated end sections
Safety slope end sections
Riprap and others
Skews and bevels
Steel sheeting to serve as a low headwall and cutoff wall
The benefits of these products include:
Most flexible design parameters of any drainage material
Customized fittings can be utilized to work around underground impediments and utilities
Prefabricated end sections, beveled ends, or headwall embankment connections can maximize inlet and outlet flows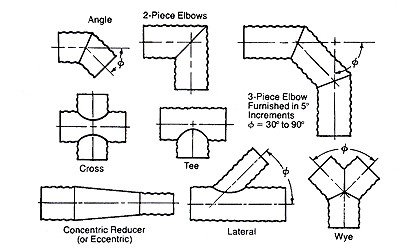 Shop fittings for corrugated steel pipe and pipe arch. Shop fabricated fittings are available for a wide variety of conditions.
For more information on fabricated fittings and end treatments, check out the Corrugated Steel Pipe Design Manual or send us your questions through our Answer Desk.
Click Here to Find a Member Supplier
"