Spiral rib pipe has nearly three decades of proven performance on municipal, transportation, airport, shopping center and residential development storm sewer projects. Its rapid acceptance is based on its Manning's "n" of 0.012, structural integrity and fast and cost-effective installation.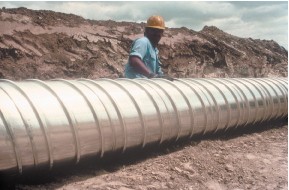 Spiral rib pipe is manufactured from a continuous strip of metallic coated or polymer coated steel passed through a roll forming line that forms the external ribs and the edges. The rolled shape section is then helically formed into pipe and the edges are joined by lock seaming. The finished product has the structural characteristics needed for installation and a smooth interior for improved hydraulics.
The pipe wall is spirally formed using rectangular formed ribs between flat wall areas. This unique profile configuration provides flow characteristics equal to those piping systems normally considered smooth wall.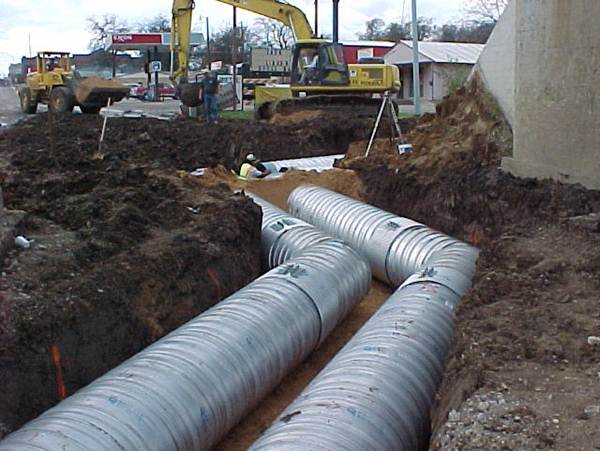 The benefits of spiral rib pipe include:
Exterior box corrugations permit hydraulic flow equivalent to smooth wall pipe
Corrugations provide structural properties needed to manage highway, rail and airport loadings
Available in diameters ranging from 18″ – 120+"
Available in three profile geometries:

3/4 inch x 3/4 inch x 7 1/2 inches
3/4 inch x 1 inch x 8 1/2 inches
3/4 inch x 1 inch x 11 1/2 inches

Hydraulically efficient prefabricated fittings
Light weight construction
Long lengths
Easy installation
Allows engineers to specify alternate products without having to perform more than one hydraulic design