Hall of Fame Project of the Year:
This storm sewer site in Ocala, FL was installed in 1986 and is still performing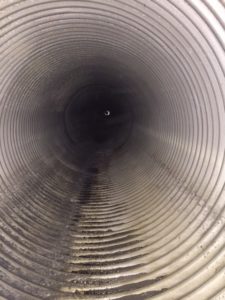 beautifully.  The project included a mile of 16 gage Aluminized Type 2 corrugated steel pipe with diameters ranging from 18 to 72 inches and included both 3″ x 1″ and  2 2/3″ x 1/2″ inch profiles.
A recent inspection and core sample yielded exceptional results.  Providing more evidence that this two-layer, metallurgically bonded composite coating offers superior design life expectancy.
For additional information on this project go to www.conteches.com.
DOT Project of the Year: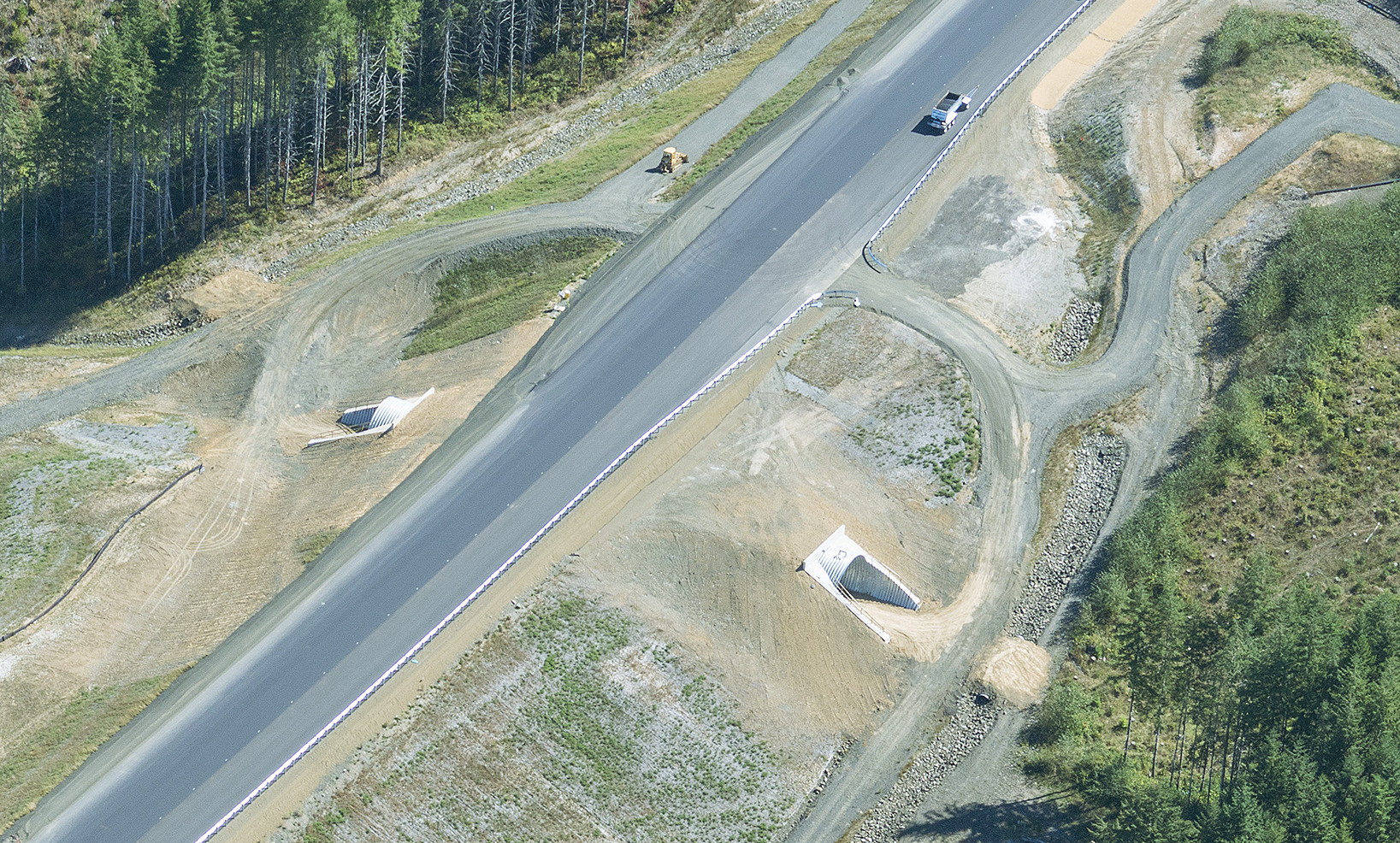 The Oregon Department of Transportation (ODOT) decided to reroute a portion of the  Corvallis-Newport Highway to enhance public safety and allow shorter truck routes.
The highway connects the interior of Oregon to the Pacific coast in Lincoln County and the new section of the road crosses a canyon used for wildlife migration.
ODOT designed a  28.4 ft diameter pipe, consisting of galvanized steel deep corrugated structural plate (15" x 5.5" corrugation profile).
The structure had an overall length of 265 ft with step beveled ends and is the first deep corrugated structural plate structure designed and specified by ODOT.
Structural Plate Project of the Year: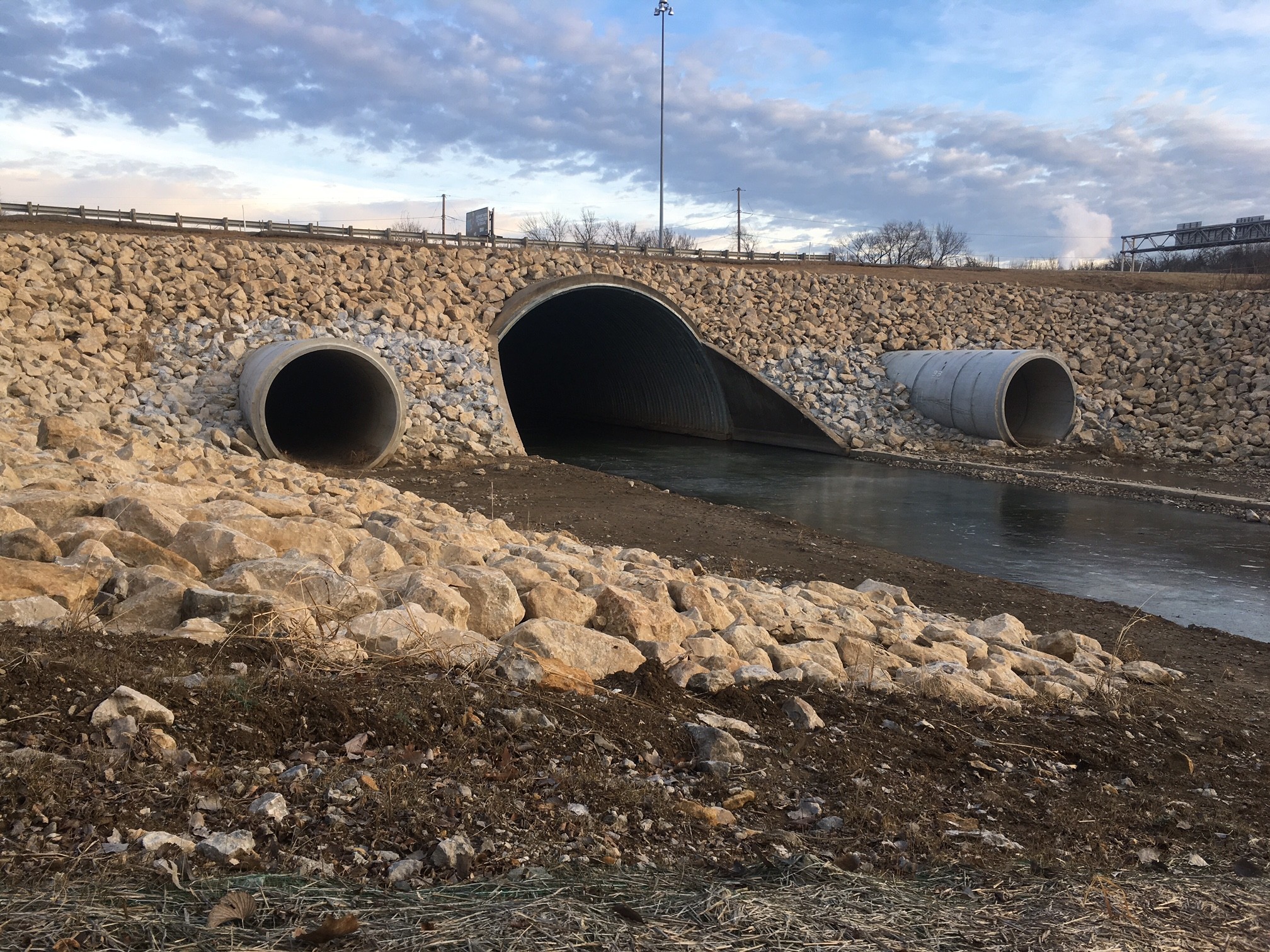 Engineers at Big R Bridge worked with the Kansas Department of Transportation (KDOT) to rehabilitate an existing concrete arch bridge constructed in 1959. which showed signs of distress. A full replacement would be cost prohibitive and repair of the arch was too costly.
A deep corrugated buried bridge geometry was customized to fit inside the existing arch space between the buried bridge and concrete arch was grouted to fill voids.
The structure ended up being 200 ft long (~155,000 lbs), making it the largest deep corrugated structural plate structure installed below an interstate highway in the US.
For more information on this project contact Joel Hahm at jhahm@bigrbridge.com.
Retention/Detention Project of the Year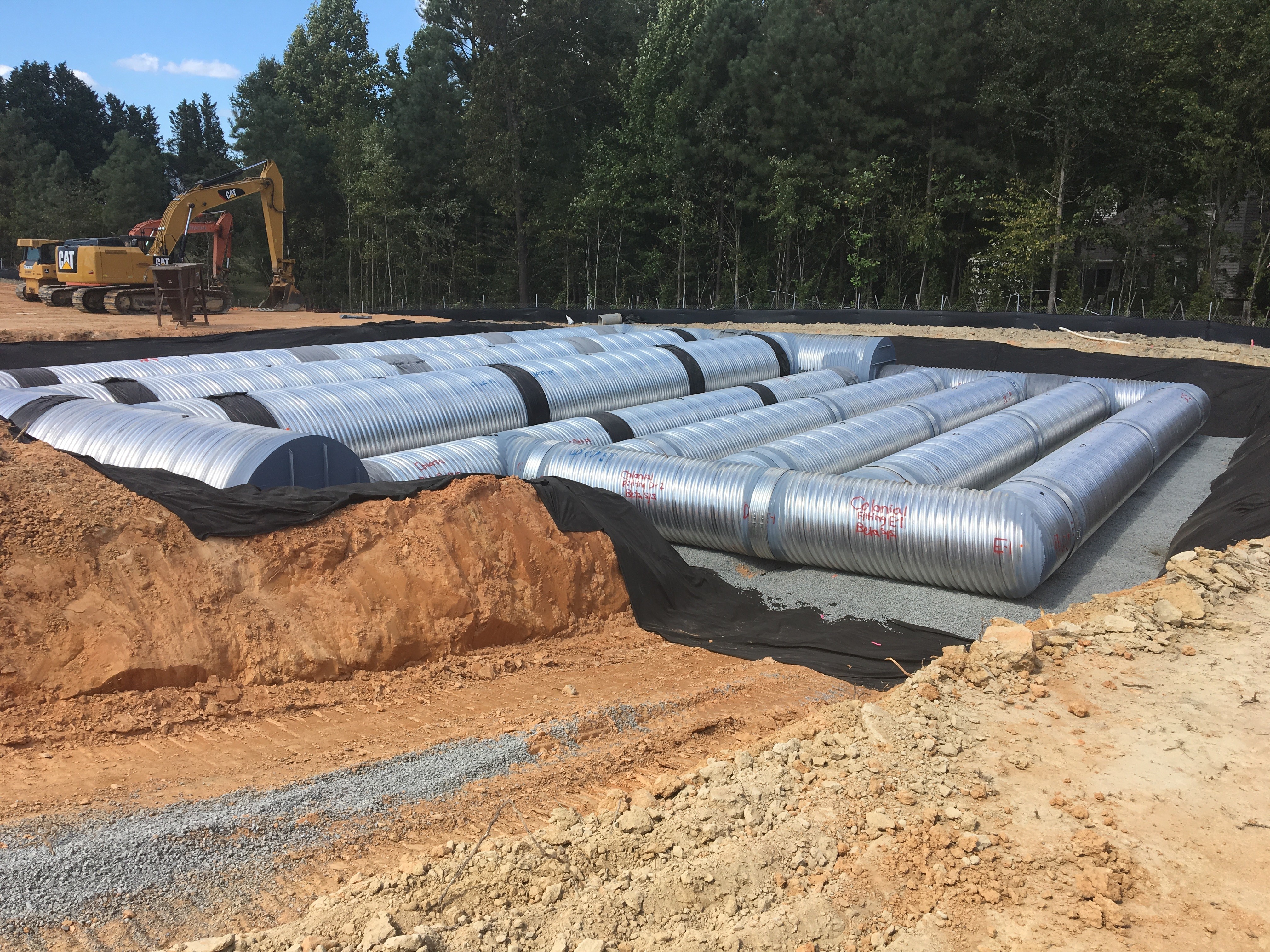 Design engineers for the 10-acre, 40-lot, single-family development located in Henrico County, VA quite possibly changed the status quo of site development by combining soil erosion and sedimentation control practices with storm water management requirements – a merging of the temporary with the permanent.
In essence, the temporary function of the traditional above ground sedimentation basin was incorporated into the permanent underground detention basin, eliminating the need to construct both independently and in separate designated areas. With two areas designated for storm water detention, four separate basins would normally have been constructed.
The dual nature of each basin was easily accommodated with corrugated steel pipe and fittings arranged to temporarily compartmentalize the sedimentation area, and service life requirements were addressed by specifying Aluminized Type 2 steel pipe.
For more information on this project contact Jerry Silagyi at jsilagyi@lane-enterprises.com.
Rehabilitation Project of the Year: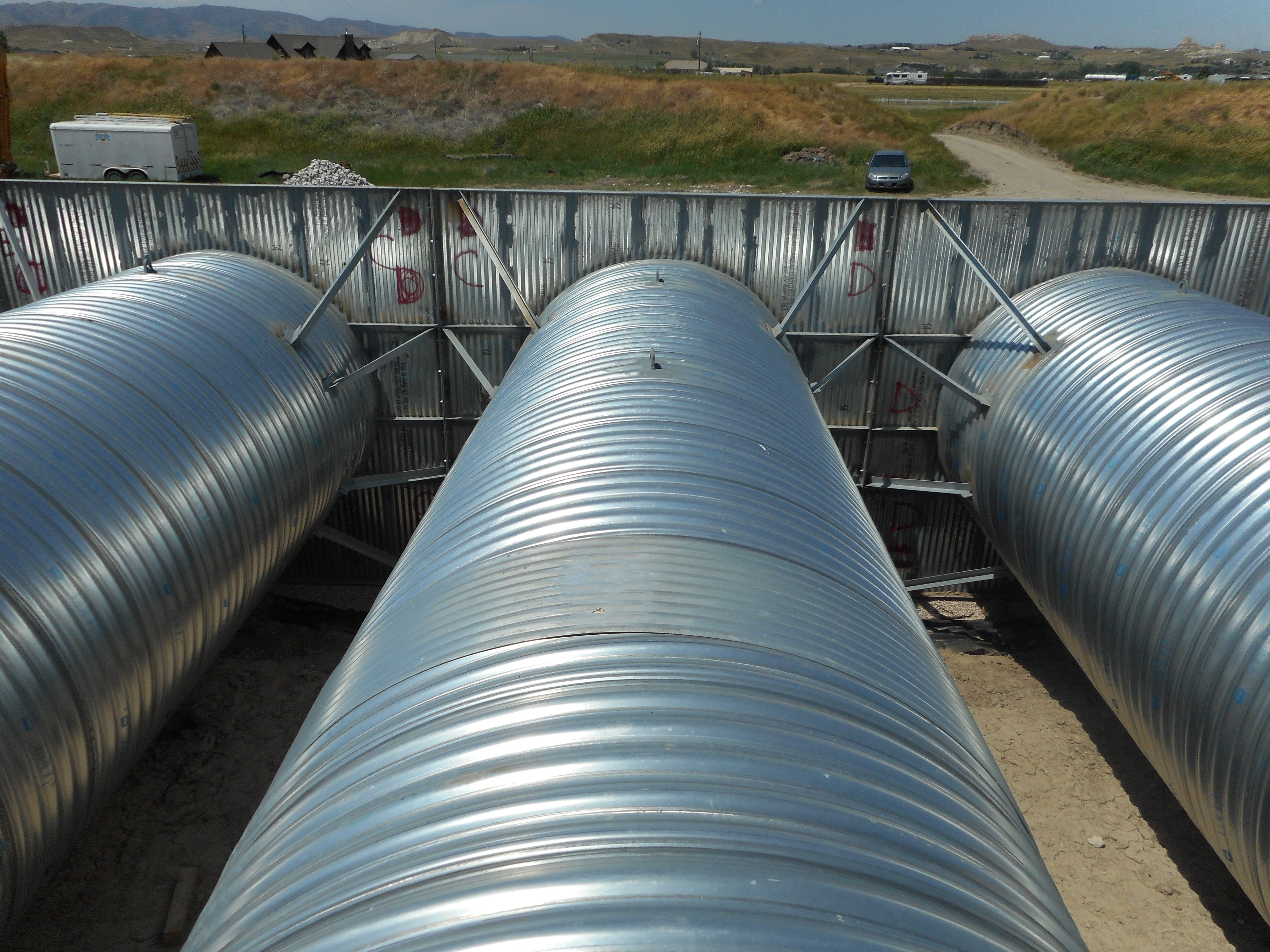 For the Douglas Wyoming Railroad Bridge, corrugated steel pipe was the solution to the rehabilitation of this old railroad timber structure.
The most important part of this rehab project was keeping the crossing was open though the entire installation process.
A triple barrel 108" diameter, galvanized coated, 10 gauge, 5" x 1" corrugated steel pipe was utilized to handle the hydraulics of the site. Head and wing walls were added to contain the backfill material and carry the concentrated rail load and improve the hydraulic capacity.
For more information on this project contact Keith Fraase at keith.fraase@truenorthsteel.com.
CSP & Pipe Arch Project of the Year: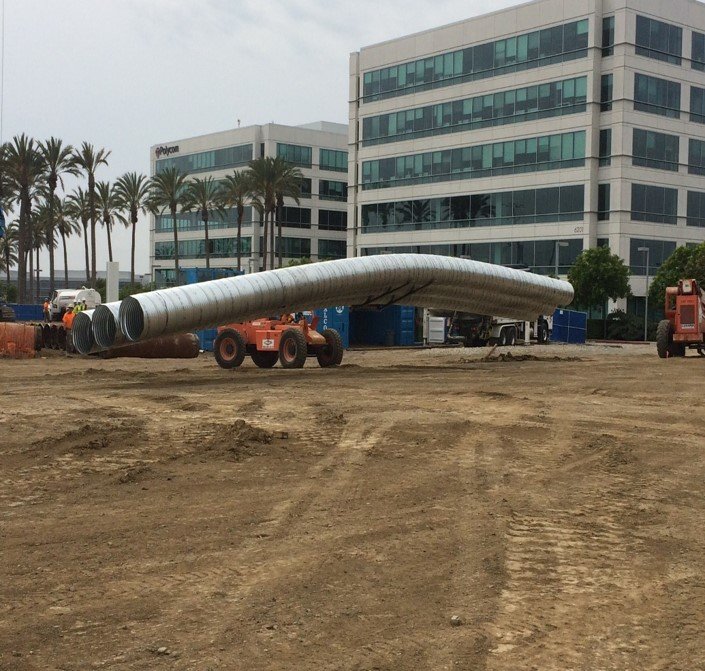 On the America Center Phase 2 project, engineers were challenged to create a product solution that would create foundational stability allowing a building and parking structure to be erected on an old landfill site. In addition, they had to create a logistical solution to transport CSP in lengths ranging from 50' through 87'.
600 tons of 12 gage galvanized steel was rolled into a 32" diameter with lengths ranging from 50' to 87'.  All of the material was shipped in bundles of 9 pieces to the job site on a stretch flatbed truck.
For more information on this project contact Tim Hahn at thahn@pcpipe.com.
Many thanks to the industry experts that served on the panel of judges for the NCSPA Project of the Year Awards:
Bob Drake – Editor-In-Chief, civil + structural ENGINEER Magazine, Zweig Group
Dennis Martyka – VP/Group Publisher, Water Quality Products Magazine, Scranton Gillette Communications
Laurie Shuster – Editor in Chief, Civil Engineering Magazine, American Society of Civil Engineers
Ray Wilcock – Executive Director, Corrugated Steel Pipe Institute
Please follow and like us:
For more information on this and the many other benefits of Corrugated Steel Pipe, contact us by calling (972) 850-1907 or visiting NCSPA.org.