By: Pacific Corrugated Pipe Co.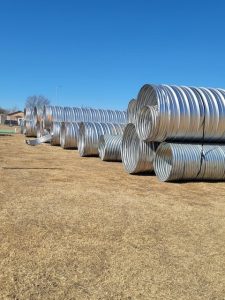 The project involved the reconstruction of a roadway that had become damaged due to a major storm which caused meaningful flooding in the area. Due to the soil composition and the specific Manning's requirement, the corrugation pattern needed to be Spiral Rib type and utilize Aluminized material. The project also included a small run of Galvanized Arch CMP pipe as well. Finally, this project required various tie-ins for catch basins that carried water to the main-line 60″ pipe.
As a means of saving the contractor money on freight, we produced 25' lengths on most of the 60" pipe since it was the largest quantity of pipe on the project. All other pipe was produced in 20' lengths and were nested inside this pipe. This process reduced the total number of trucks needed to ship product by approximately 20%.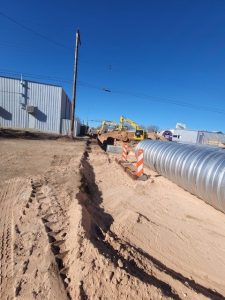 The complete item listing of this project consisted of the following diameters and quantities:
– 60″ Aluminized SRP 14ga: 3800 lineal feet
– 36″ Aluminized SRP 14ga: 670 lineal feet
– 24″ Aluminized SRP 14ga: 1010 lineal feet
– 42″x29″ Galvanized CSPA 14ga: 85 lineal feet
– Various quantities and sizes of fittings, end sections and rerolled bands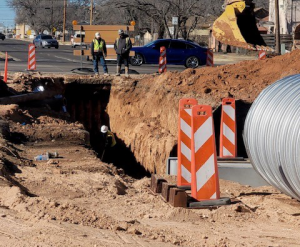 These pipes were installed underneath and along a road that effectively created a channel that carried water from one end of the town to the other. This project was the third phase of this meaningful project which totaled over 130 tons of material for this phase alone. We are planning the support of the fourth phase of this project which also included various CMP products.
Challenging soils, hydraulic efficiencies and freight are no match for corrugated metal pipe and Pacific Corrugated Pipe Company.