By: Contech Engineered Solutions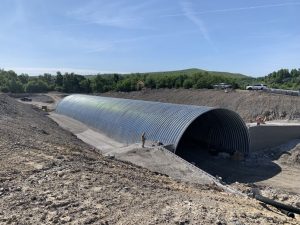 The Big Sandy Regional Airport (BSRA) located in Martin County Kentucky was built in 1984 with a 5,000 ft runway. But, in the 1990's federal regulations were amended to require airports to maintain a 300 foot runway safety area at each end of the runway, putting the Big Sandy Regional Airport's 5,000 foot runway in jeopardy. BSRA applied for a portion of the $1 billion dollar federal budget for non-metropolitan airports and in 2019 the United State Department of Transportation awarded BSRA nearly $6 million dollars to complete the design and construction of the runway safety areas.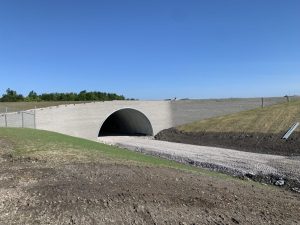 The land the airport was built on was donated by the Pocahontas Mining Company in 1981 and the deed stipulates that the airport must provide access for the mines around the airport. Working first with Garver Engineering in Birmingham (AL) and Lexington (KY), Contech Engineered Solutions developed a cost effective solution that would allow access for large mining equipment, accommodate the future runway expansion and could even be used to expand the surrounding highway leading to the airport. The 43′-10″ span galvanized steel structural plate single radius arch, now running under the runway safety area, was designed to carry aircraft loads from above and the 200 ft tunnel underneath is large enough to pass a Caterpillar 777 with ease.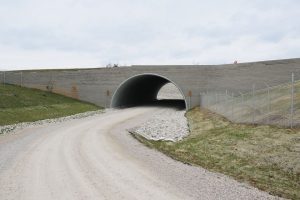 In June of 2020 Walker Construction from Mt. Sterling, KY was awarded the contract to perform the work. Slowed by the pandemic and years worth of escalating steel costs, Contech and it's distribution partner, Intersate Construction Products, settled on a contract with Walker in late 2021 and began production of the material for delivery in mid-June 2022. Material was delivered to the site and the 200 foot long tunnel was assembled by one of Contech's certified installers, Platinum Services, in 2 weeks from beginning assembly. Modular block headwalls were constructed at each end to complete the tunnel. Backfill operations were immediately undertaken by Walker Construction and structure monitoring occurred throughout by third party inspectors contracted by Contech Engineered Solutions. By late August 2022, the finishing touches were being completed on the project with final completion in late September of 2022. By adding the tunnel, BSRA was able to save the 5,000 foot runway.